DuraFlame and CrackleFlame Class Action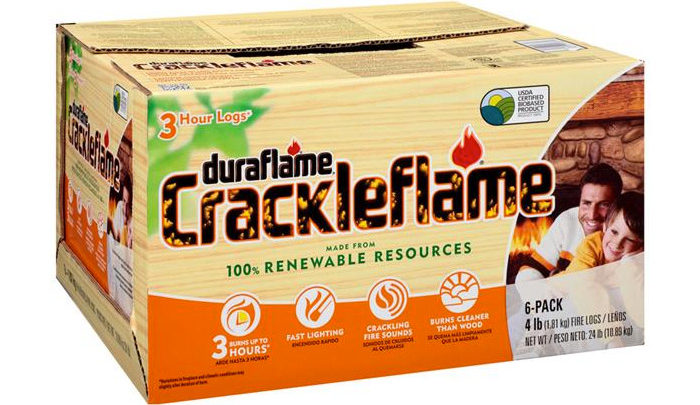 If you have purchased a Natural DuraFlame or CrackleFlame log with the claim that it is "Natural" or "100% Renewable Resources" or "Made from 100% Renewable Resources" please contact us at 817-455-6822 or fill out the form.
DuraFlame has allegedly been advertising its logs with claims that are not true and consumers may have an opportunity to get their money back. If you would like to have information about the class action investigation, please contact us, fill out the form or call 817-455-6822.
DuraFlame Logs and False Claims
From 2013-2015, Duraflame manufactured and marketed a line of fire logs that claimed to be "natural" and that it was from "100% Renewable Resources" and "Made from 100% Renewable Resources."
According to the patent for these logs, the logs consist of a mixture of cellulosic material, like sawdust, and a combustible material. This combustible material comprises anywhere from 30-70% of the log.  This material may not be renewable or from a renewable resource so the claim may be false. We would like to help consumers with correcting the false labeling.
The Problem with Calling it "Natural"
The wax material appears to be the product of a chemical process that is "not natural."
A non-petroleum wax can similarly be characterized as combustible vegetable oils or animal fats, and/or wax materials derived therefrom, including without limitation in whole or part of a blend; plant and/or vegetable oils and/or animal fats, and/or other waxy materials including; triglycerides, sterols, terpenes, all C12 through C22 fatty acids (lauric, myristic, palmitic, stearic, oleic, linoleic, erucic and the like), fatty alcohols, glycerol, pitch, rosins and other oily substances and residues from soybean, canola, palm, palm kernel, beef tallow, lard, yellow grease, corn, safflower and tall oil.
Fatty acids can be obtained from fats and oils by a process in which the first step is referred to as splitting. Splitting is the hydrolysis of a fat or oil to form three molecules of fatty acids and one molecule of glycerin. Fatty acids containing only single carbon-to-carbon bonds are termed "saturated" and are the least reactive chemically, but of great importance in the wax industry. The main saturated fatty acids of practical interest for wax purposes are palmitic (C16) and stearic (C18). Fatty acids containing one or more carbon-to-carbon double bonds are termed "unsaturated." Some unsaturated fatty acids in food fats and oils of more industrial importance are oleic, and linoleic.
Common fats and oils that can be used to make a non-petroleum wax blend for artificial firelogs include without limitation palm stearin, stearic acids, hydrogenated soy oil, hydrogenated tallow, distilled tall oil, and tall oil pitches. Palm stearin, and stearic acids are considered "hardeners" in firelog wax blends because their major chemical components are palmitic and stearic acids. These products are solid at room temperature with melting points of 138° F. and 145° F. respectively. The resin acids are also solid at room temperature.
Duraflame, Made From 100% Renewable Resources May be False Claim
The combination of the saturated acids and the resin acids accounts for the hardener of the firelog wax. The soft and or sticky components of a non-petroleum wax blend are conferred by the inclusion of unsaturated components. The raw materials that are used for that purpose are typically oils rich in oleic and linoleic acids, as well as pitch which includes the highly viscous liquids made mostly of unsaturated fatty acids and uncharacterized low molecular weight reaction products from the distillation process. The proper blend ratio of saturated fatty acids, resin acids, unsaturated fatty acids and pitch can produce a non-petroleum wax mixture that is solid at room temperature with adequate consistency to be used as the firelog "wax." In some embodiments, a suitable ratio may be provided by an individual wax component without need for blending with other materials.
The other problem with Duraflame's ads and labels is that the label also says it is "100% Renewable Resources"/"Made from 100% Renewable Resources." Given the manufacturing process, there are chemical ingredients that do not appear to be "renewable resources."
____________
This is Attorney Advertising
TheClassActionNews.com
is operated by the Law Offices of
Jennifer Duffy
, A Professional Law Corporation.
Main Office:
4601 Wilshire Blvd, Los Angeles, CA 90010

We invite you to contact us and welcome your calls, letters and electronic mail. Contacting us does not create an attorney-client relationship. Please do not send any confidential information to us until such time as an attorney-client relationship has been established.

The hiring of a lawyer is an important decision that should not be based solely upon advertisements. No representation is made that the quality of the legal services to be performed is greater than the quality of legal services performed by other lawyers. Prior results do not guarantee a similar outcome. Submission of our contact form is an agreement to receive communication from entities related to
TheClassActionNews.com.
While the firm maintains joint responsibility, some cases are referred to other attorneys for principle responsibility.