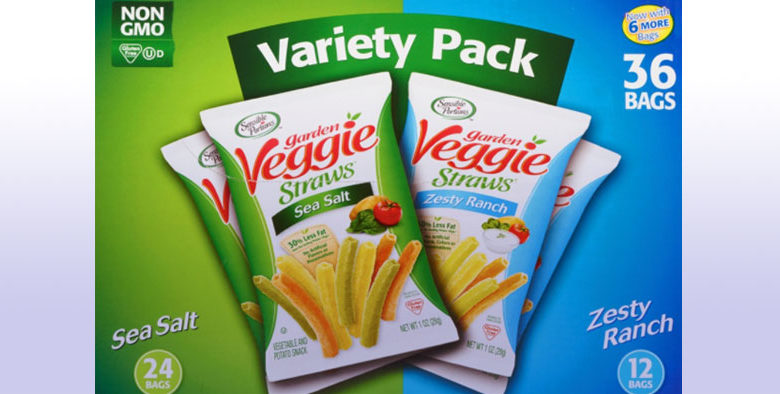 This is a California class action brought against Hain Celestial Group, which is a manufacturer of food and health products that has faced substantial past litigation. The current claim against Hain Celestial Group is based on false and misleading business practices related to Garden Veggie Straws. Plaintiffs allege that Hain's use of terms and images wrongly led reasonable consumers to conclude the products are healthy. Han advertised the veggie straws as containing ripe vegetables and garden grown potatoes when the product is actually made of spinach powder and potato flakes. Far from being healthy, the nutrient content of the veggie straws is actually below the nutrients found in potato chips.
The product is Sensible Portions Garden Veggie Straws. The front of the package shows a picture of a potato, tomato and a leaf of spinach  On the back of the bag it states, "What makes our snacks so irresistible?  The combination of garden grown potatoes, ripe vegetables, and 30% less fat than the leading potato chip."
The ingredient list is woefully different than that description: potato flour (potato flakes and potato starch) corn starch, tomato paste, spinach powder, salt, sugar, beetroot powder (color), turmeric, canola oil and or safflower oil and or sunflower oil, sea salt.
The nutrient label indicates far fewer nutrients than potato chips.
There are many varieties of Veggie Straws: Ranch, Lightly Salted, Sea Salt, etc.
...............
This is Attorney Advertising
TheClassActionNews.com is operated by the Law Offices of Jennifer Duffy, A Professional Law Corporation. Main Office: 4601 Wilshire Blvd, Los Angeles, CA 90010


We invite you to contact us and welcome your calls, letters and electronic mail. Contacting us does not create an attorney-client relationship. Please do not send any confidential information to us until such time as an attorney-client relationship has been established.
The hiring of a lawyer is an important decision that should not be based solely upon advertisements. No representation is made that the quality of the legal services to be performed is greater than the quality of legal services performed by other lawyers. Prior results do not guarantee a similar outcome. Submission of our contact form is an agreement to receive communication from entities related to TheClassActionNews.com. While the firm maintains joint responsibility, some cases are referred to other attorneys for principle responsibility.