DoorDash Independent Contractor Investigation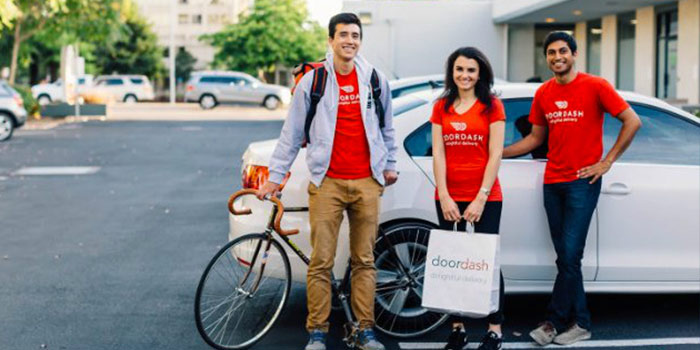 Recently, a California Labor Commission judge ruled that Uber is misclassifying its drivers. The Commission determined that Uber drivers should be classified as employees and not as independent contractors. This ruling may affect similar companies that use independent contractors to make deliveries, such as DoorDash. DoorDash drivers may be entitled to employee status and could receive compensation for unpaid expenses, higher wages and other benefits. If you or anyone you know has worked for DoorDash as a driver, you may be part of a class action. Please contact us at 817-455-6822 or through the form on this page.
Background
DoorDash is a food delivery service located in 16 cities or regions throughout the country, which include San Francisco, San Jose/Silicon Valley, Oakland, Los Angeles, LA Valley, Orange County, San Diego, Boston, Phoenix, Brooklyn, Manhattan, Washington D.C., Minneapolis and Houston. Customers allegedly use DoorDash to order food and are given an estimated delivery time. DoorDash orders may be placed online or through a mobile app. It has been reported that DoorDash charges the customer a flat fee for every restaurant in which an order was placed and does not require a minimum order size.
To complete these deliveries, DoorDash reportedly hires delivery drivers, or "dashers," as independent contractors to pick up the food at the restaurant and deliver the food to the customer's location. It is alleged that DoorDash pays its drivers for the deliveries they complete and drivers may be permitted to accept tips from customers. It has also been reported that Dashers are required to use their personal vehicle to make deliveries and must have their own car insurance, which is monitored every six months. In addition to possessing and using personal vehicles, dashers also must allegedly own and use a personal iPhone or Android smart phone in order to get notice of new delivery orders on their phones.
Labor Commission Ruling
A recent Labor Commission ruling decided that Uber misclassified its drivers as independent contractors. The Commission examined the method and level of control Uber exercised over its drivers and decided that the drivers should be classified as employees. Among other aspects, the Commission examined the alleged control Uber has in connecting clients to the drivers and the payment of the driver wages when making this determination.
This ruling may be applicable to DoorDash drivers because Uber's method and level of control over its drivers appears to be similar to DoorDash. Like Uber, DoorDash reportedly connects drivers to clients and pays drivers for the service. These are just some examples of DoorDash exercising control over its employees in similar ways as Uber. Due to the similar ways the two companies exercise control over its drivers it is possible that the Commission's recent ruling may apply to DoorDash's independent contractors as well.
Potential Class Action
If you work for DoorDash or know anyone that has worked as a delivery driver for DoorDash or a similar company, you may be eligible for compensation. Please contact 817-455-6822 or fill out the form on this page.
...............
This is Attorney Advertising
TheClassActionNews.com is operated by the Law Offices of Jennifer Duffy, A Professional Law Corporation. Main Office: 4601 Wilshire Blvd, Los Angeles, CA 90010


We invite you to contact us and welcome your calls, letters and electronic mail. Contacting us does not create an attorney-client relationship. Please do not send any confidential information to us until such time as an attorney-client relationship has been established.
The hiring of a lawyer is an important decision that should not be based solely upon advertisements. No representation is made that the quality of the legal services to be performed is greater than the quality of legal services performed by other lawyers. Prior results do not guarantee a similar outcome. Submission of our contact form is an agreement to receive communication from entities related to TheClassActionNews.com. While the firm maintains joint responsibility, some cases are referred to other attorneys for principle responsibility.