Ashley Madison Class Action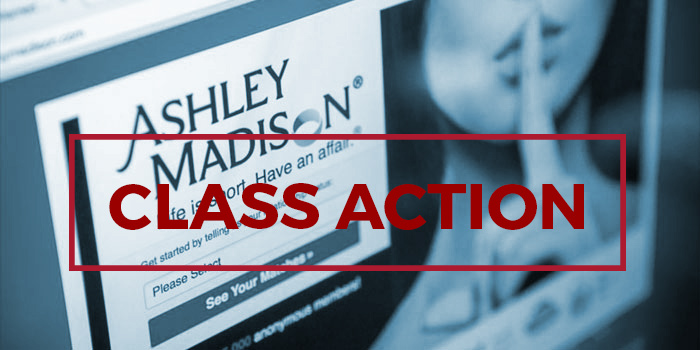 Ashley Madison Class Action
AshleyMadison.com has recently suffered a data breach. If you have ever had a user account with Ashley Madison or "AM", your personal information may have been stolen.  The information may also have been sold or posted online. Please contact us using the form on this page or call The Class Action News at 817-455-6822.
Background on AM Extortion
Avid Life Media has reported that its websites AshleyMadison.com, CougarLife.com, and EstablishedMen.com have recently been attacked by hackers. In the AM hack, the hackers have cracked the website's security, stolen information from millions of users, and have threatened to expose the information online. The AM stolen records include personal data including email addresses, mailing addresses, computer IP addresses, usernames, dates of birth, marital status, and the sexual preference of the user. Within hours of the Ashley Madison data breach, hackers have begun to threaten exposing the victims through the Internet. It is unknown at this point if credit card information has been used for fraud.
The data breach was first reported by the website Krebs on Security, which said that a team of hackers calling themselves the Impact Team had breached Avid Life Media's data banks. It was also reported that the hackers claim to have infiltrated the Ashley Madison site because of the AM delete profile feature which falsely promised to fully erase all customer data for a price. The hackers allegedly claimed that the offer was fraudulent as customer data was not actually fully erased from the site. It is also reported that even deleted accounts have had their information stolen. Any information ever entered into the Ashley Madison name list or email list is at risk. Deleted accounts offer no protection against the data breach.
Avid Life Media is an internet-based social networking company. The company has many millions of users in its network of websites. The company's subsidiaries, and the confirmed targets of the hack, AshleyMadison.com, CougarLife.com, and EstablishedMen.com have all been compromised.
Ashley Madison Data Breach
A data breach occurs when an unauthorized person views, accesses, or retrieves protected or confidential data belonging to another. One of the most common types of data breach is a cyber attack. Computer hackers target organizations to illegally gain access to the secure information within. Although companies and other organizations are targeted, it is usually the information of individual people that the hackers are after. The personal and financial information of millions of people can be gathered all at once during a data breach. Once hackers have the information they usually use it to commit credit card and identity fraud. However, in cases like the AM lawsuit, with the sites Ashley Madison, Cougar Life, and Established Man, the hackers instead threaten to expose the customers' identifying information. The AM hack potentially creates many more opportunities for criminals to commit fraud using the stolen information as well. For more information on how data breaches destroy lives, click here.
Ashley Madison – Potential Class Action
Ashley Madison has been the target of a data breach. It has been confirmed that at least 37 million users have had their information stolen. The stolen data is being used to threaten the company to force it to shut down and may potentially be used to commit criminal fraud. If you have ever had a user account with Ashley Madison, Cougar Life, or Established Men websites, your personal information may have been stolen. Please contact us using the form on this page or call The Class Action News at 817-455-6822. You may be part of a class action lawsuit.
...............
This is Attorney Advertising
TheClassActionNews.com is operated by the Law Offices of Jennifer Duffy, A Professional Law Corporation. Main Office: 4601 Wilshire Blvd, Los Angeles, CA 90010


We invite you to contact us and welcome your calls, letters and electronic mail. Contacting us does not create an attorney-client relationship. Please do not send any confidential information to us until such time as an attorney-client relationship has been established.
The hiring of a lawyer is an important decision that should not be based solely upon advertisements. No representation is made that the quality of the legal services to be performed is greater than the quality of legal services performed by other lawyers. Prior results do not guarantee a similar outcome. Submission of our contact form is an agreement to receive communication from entities related to TheClassActionNews.com. While the firm maintains joint responsibility, some cases are referred to other attorneys for principle responsibility.